Happy Birthday, Colby T...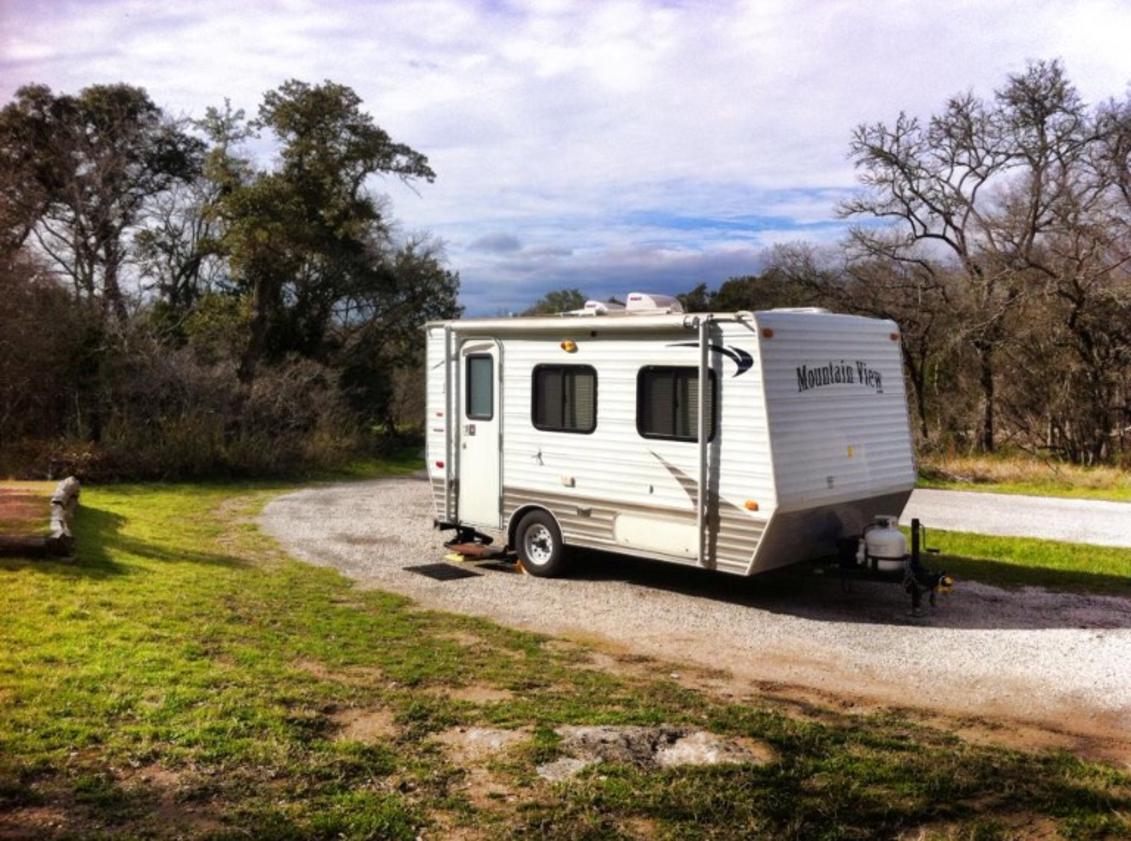 I just got a reminder from my Google calendar that tomorrow, September 9th, is the eighth birthday of the Colby T, my little Skyline Retro 140 travel trailer. Of course, I am talking about the day it rolled off the assembly line. I didn't actually take possession until February 12th, 2012. It seems like such a long time ago, but it wasn't.
I find myself wondering whatever happened to the Colby T. I traded it in at Ancira RV on October 22, 2016. I hadn't even had it five years. I assumed that the dealership would clean it up and resell it. However, I watched their webpage for months after that and never saw it listed. Someone told me they thought the dealerships just hall the little ones off as garbage. I really hope that didn't happen to the Colby T. I truly loved that little camper with all of my heart. It gave me a whole new outlook on life during our short time together.
I keep hoping that somebody will suddenly call or email me to say that they are the new owners. The day I took it to trade it in, I hid a long letter in a plastic bag that told the entire history of the Colby T. I wanted the new owners to know how much it had been loved and cared for. I wanted them to know how much happiness it brought into my life just as my whole world seemed to be falling apart. My oldest had left us and gone off to college. First my mom, then my dad passed away. I was showing signs of midlife crisis. The Colby T was some serious preventative medicine!
During that short time with the Colby T, I went on 202 separate camping trips for a total of 243 nights. All but 18 of those trips were by myself. Of those 18, most were with Jared, but Rachel did go with me about 5 times. There were two major trips. The first was to the Grand Canyon with Jared and his buddy Storm. The other was the time I pulled the Colby T to St. Louis and back. Rachel flew up there.
I wonder if the ghost of the little girl still haunts the Colby T somewhere. I only saw her once. I never did figure out who she was or why she was hanging out in the camper. It doesn't really matter though, does it? I still have the memories, photos, and stories to tell.
I have lots of memories, photos, and stories to tell of, and about, the Colby T. Even when I am camping in the upgraded luxury of the Colby 2.0, I find myself daydreaming about the "good old days" camping in that tiny little guy. Sure, I still remember the things I didn't like about it, but they weren't all that important to me back then. I never really expected to upgrade to a bigger one. Rachel will tell you that I really wanted a new fancier trailer. What I wanted was one that she would be more comfortable in so that I wouldn't be telling you five years from now that most of my hundreds of trips in the Colby 2.0 were by myself.
One really strange thing about the Colby T is this: In all these years of camping, I have only seen one other trailer like the Colby T. Even though I belong to lots of RV forums and FB groups, I have only come across one other person who had one. You would think I would see them every once in a while. Hundreds, maybe thousands, must have been manufactured. I see other people with trailers like the Colby 2.0 on about every other trip! Maybe some day I will be traveling the highways and catch a glimpse of the Colby T.
comments powered by

Disqus